【Osomatsu-san】The movie released and got super popular! Enjoy Osomatsu-san's greatest adventure ever with totally new animation!!
2022-07-13
Hi, everyone! It's Boss from Otaku Republic! It is too hot for me to be in Japan......
Hi there!! It's Saori from Otaku Republic! Oh no! Boss!! Are you okay?? I am trying to have some water and salt frequently to avoid heatstroke here in Japan. Everyone must be careful about this hot weather if you come to Japan!
When it's really hot outside, it is better to stay cool place inside! Why don't you check the latest anime, the long complete one at ......?
【Osomatsu-san】The movie released and got super popular! [Osomatsu-san: Hipipo-Zoku to Kagayaku Kajitsu]
What is the greatest adventure ever that was described with totally new animation?
Osomatsu-san
https://otakurepublic.com/product/tag_page.html?tags=171157
I see! The movie theater is the best place now! It is cool and you can watch the latest anime movie! Osomatsu-san's new movie is now playing!
Yes!! This new anime movie project was announced in June 2021. It took a year to complete and was finally released on July 8th!
The theme of the movie is
"the greatest adventure ever"

!?
To look for a golden fruit that makes your wish comes true, the sextuplets start a great adventure!
The sextuplets were having an ordinary peaceful life. However, they started questioning themselves if it is okay to have such a lazy life. In order to change their lives, they wanted to go on a journey to find a sparkling fruit that makes people's wish comes true!
They went on various adventures and eventually they arrived in a mysterious isolated island!
They heard that Hipipo tribe who are the aboriginal people there grow the legendary sparkling fruits in the island!!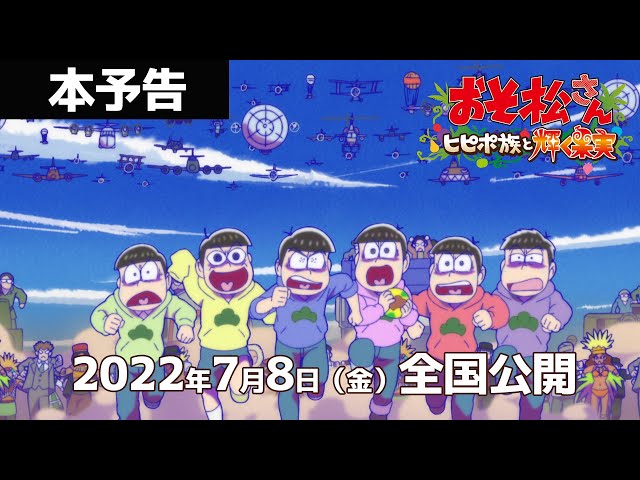 Wow! It is an action-adventure movie! I think it is a perfect genre for Osomatsu-san! I look forward to watching it!!
This is Osomatsu-san's second movie. The first movie was comedy, but also I felt a little bittersweet when I watched it. I still feel nostalgic when I remember about it!
Yup! The first movie was about the sextuplets went back to the past and they met younger version of themselves who were still in school.
It describes the sextuplets' personalities in the past, their thoughts, their lives we did not know. It was a very interesting story!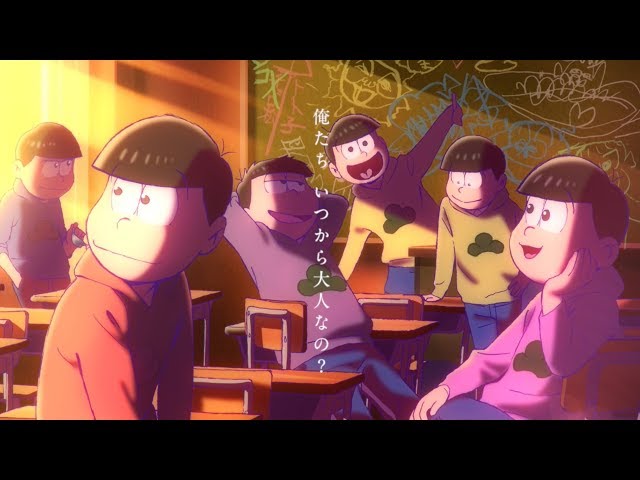 The characters that appeared in anime Season 3 will be in the movie?
It is okay if you haven't checked Season 3 though......
Oh by the way, I found some characters in anime Season 3 in the movie trailer. Do you think that we need to watch anime Season 3 before watching the movie?
Personally, I do not think so. Even if you haven't checked the anime Season 3, you can still understand everything. If Season 3 is deeply related to the movie, it will be said in the trailer. There is no such announcement in the trailer. So, everyone can enjoy the sextuplet' greatest adventure!!
Check here for Osomatsu-san's Doujinshi! Over 56,000 items were released!!
Osomatsu-san
https://otakurepublic.com/product/tag_page.html?tags=171157
Oh, I heard that Osomatsu-san will release another movie in 2023! Is the movie this summer going to be the first half?
Hmmm...... I don't think so! It will be told if it is a part of a long series.
Hmmm...... that must be true!!
What is going to happen in the mysterious island??
Let's check Osomatsu-san's new movie at a movie theater!!
Okay, that is all for today! I will see you in the next article!!

Have a good day!!
---
Related Articles
Popular Articles