【FE】 4th House Ashen Wolves Appeared! & Super Smash Bros Joined!!
2020-01-29
Saori(゜∇ ゜)
Listen, Boss!!!
Boss( 'ω')
What's wrong???
Saori(゜∇ ゜)
Fire Emblem: Three Houses will be Fire Emblem:
Fourth
Houses!!
Boss( 'ω')
Whaaaat? No kidding~~~~~~?!?!?!?!?!
【Three Houses】 TWO BIG NEWS! Fourth House・Ashen Wolves Appeared! & Super Smash Bros Joined!!
Saori(゜∇ ゜)
I'll tell you what. The other day, Nintendo announced about adding Downloadable Contents (DLC) of Fire Emblem: Three Houses and… Guess what? Another class (fourth class) will be added to the scenario!
Fire Emblem: Three Houses - DLC Wave 4 Trailer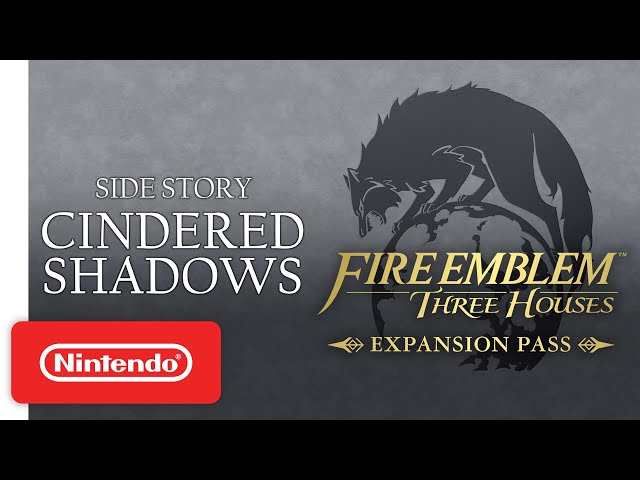 the Ashen Wolves(灰狼の学級・ヴォルフクラッセ)
Saori(゜∇ ゜)
As you know, the Fire Emblem: Three Houses that we know enables us to add Chara who appear in the scenario as our buddies, have them wear the costumes by theme, take a sauna and even play with super cute cats or dogs!
(To me, playing with cats and dogs healed my heart after a long fighting… So I love it a lot…!)
Saori(゜∇ ゜)
BUT! They will announced again that they will release the added scenario and the new characters on February 13th, which made fans in Japan super excited!
Boss( 'ω')
So far, we have had three classes; 1 Black Eagles with the leader, Edelgard, 2. Blue Lions with the leader, Dimitri, and 3. Golden Deer with the leader, Claude, right? (That's what you wrote in the previous article.)
【Fire Emblem】Three Houses Are Super Fun.
https://otakurepublic.com/blog/entry_553.html
Saori(゜∇ ゜)
YES! But (as I played it) this should be new to everybody and super interesting to anybody even without noticing there are four classes or some hints about the new four characters (as far as I played it regularly)!
The current students who belong to the Ashen Wolves
Yuri
Hapi (The girl in the middle in red hair)
Constance
Balthus
Boss( 'ω')
How are we gonna meet them?
Saori(゜∇ ゜)
It looks like there is a huge city, called 'Abyss' in the basement of the Military Academy.
The player and some of the students accidentally find the entrance and meet there… (I saw the hint about Abyss in the basement, in the quest which we can get in the added DLC!)
Boss( 'ω')
Isn't it awesome that there's a hidden city in the basement of school…?
Saori(゜∇ ゜)
Since the school used to be the monastery, there are historical things such as mausoleum of well-known people, the storage room of the heritage, and the podium of the ceremony… yes, it's spacious.
It's not as spacious as the city but at least they do activities under the class name
The fourth class without the homeroom teacher; the Ashen Wolves
.
They have something in common which seems to be
the students who can no longer live above grade for some reason
…!
Boss( 'ω')
Oh? I see cats underground too.
Saori(゜∇ ゜)
I wonder what kind of secret is hidden in the Ashen Wolves and in the basement…!? The added DLC (Japanese edition) will be released on Feb. 13!! Don't miss it out!!
Saori(゜∇ ゜)
And there is another news…!! Guess what??
Another teacher will join the most selling battle game which has achieved the Guinness record!!!
Super Smash Bros. Ultimate – Mr. Sakurai Presents "Byleth"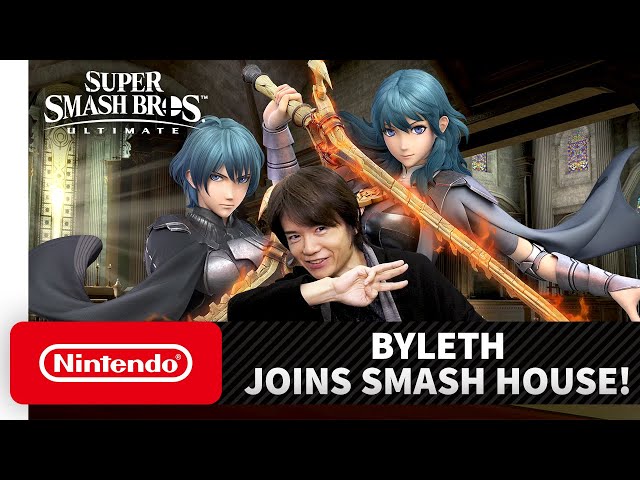 Boss( 'ω')
Wow~!! Congrats on joining it!!!
Saori(゜∇ ゜)
One of the characteristic about Byleth is
long reach & high power attack
!
The Chara in Fire Emblem Series usually fight with swords but Byleth is able to fight with spear, ax and bow, which are said to be the heritage of the Heroes in the game, with the stronger power from the farther place than any Chara in the game!
Boss( 'ω')
That's the strongest, huh?
Saori(゜∇ ゜)
Yep! But!! He has weakness! He
is easily caught off guard & his counter is bad
!!
He is good at breaking into other chara's battle and beat them up! But when it comes to guarding the attack for the one on one battle and make a chance of counterattack, he tends to be attacked repeatedly and beat up quickly…!
Boss( 'ω')
Wow! It's good that he can have both clear strength and weakness! The coloring is lovely too! …There's some colorings that I've seen somewhere before, though…
Saori(゜∇ ゜)
So! Fire Emblem: Three Houses! will liven up more and more from now on!!
The game itself is so interesting so those who have played before and will play now can enjoy it!!
Check HERE for Fire Emblem: Three Houses' Doujinshi!
https://otakurepublic.com/product/tag_page.html?tags=637381
Want to Get TCG Fire Emblem 0? Go visit our sister site, TCG Republic!
https://tcgrepublic.com/category/subcategory_page_8402.html
Saori(゜∇ ゜)
Alright now! We'll see you at the next article! Bye now~!!!
---
Related Articles
Popular Articles